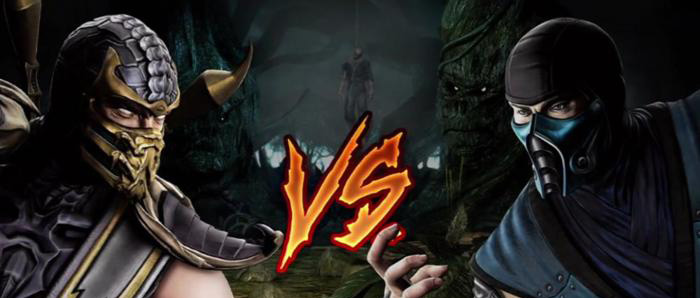 Now there are hundreds of services that let you build your dream blog with a single click. Even there are loads and loads of Blog Platforms coming everyday, the giants of the blog platforms are Blogger and WordPress which is why I chose to write about Blogger vs WordPress – Self-Hosted – comparison.
Remember Scorpion is the WordPress and Subzero is the Blogger. 😉
However, If you said me to name a few of other blog platforms, I'd like to mention Tumblr, Posterous, Wix too. Remember here I'm not going to talk about these stuff, but only the Blogger vs WordPress comparison to show you which is the best.
Blogger is a free web-based platform run by Google. While WordPress has 2 versions called WP Hosted Solution & WP Self-Hosted Solution and WordPress is managed by Automattic.
Here it is the comparison of Blogger vs WordPress Self-Hosted solution.
WordPress(Not the WordPress.com) is a free open source software which can be installed on your server. There are many differences and limitations of WordPress.com Hosted Version & Self-Hosted version. Best fact is WordPress Self-Hosted isn't limited in anyway and it's time to see what Blogger & WordPress got to show you.!
Introduction To New Blogger Interface
First of all I'd like to talk about Blogger platform which is my first platform I used. But I didn't satisfy with it. When you log on to Blogger Interface. It displays all your blogs, so that you can access any of them with one click. Below is a screenshot of new Blogger Interface of Blog Overview.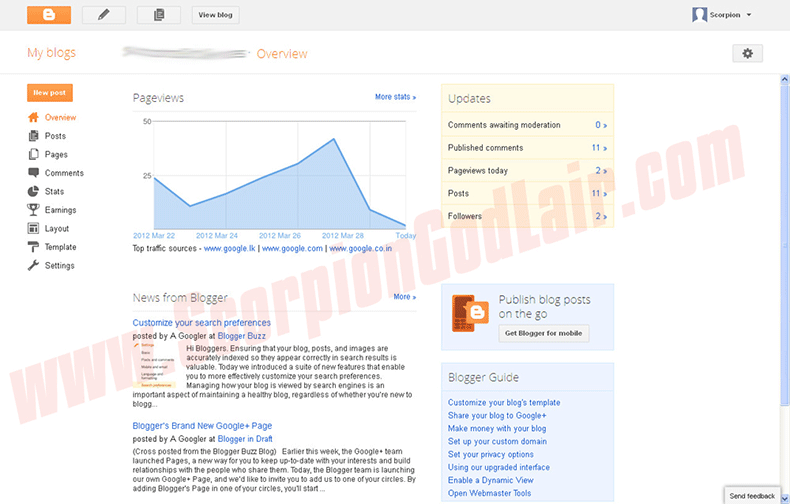 You can see the stats of your blog including Pageviews, Followers, Comments & Number of Posts at a glance. These things were not appeared in the old interface.
Also Blogger Interface got a fancy looking design with this update and it doesn't feel like boring. That's an improvement!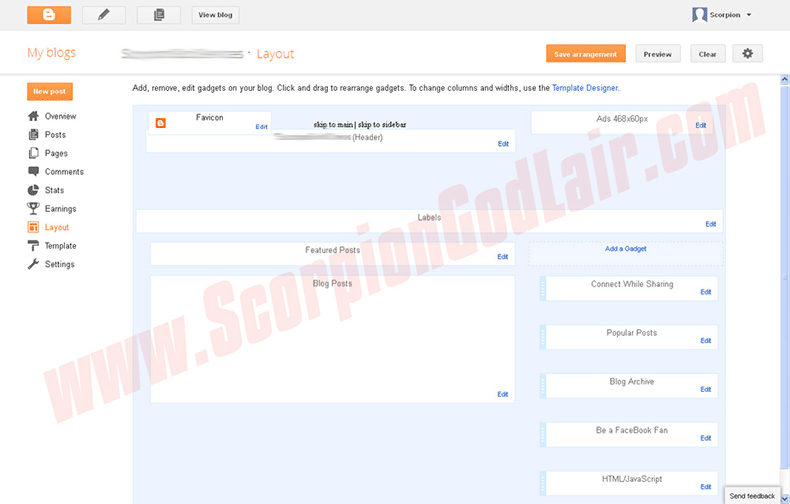 In Blogger Layout page, You can easily drag and drop your favorite widgets or elements much faster. You have the chance of choosing a Favicon for your Blogger blog.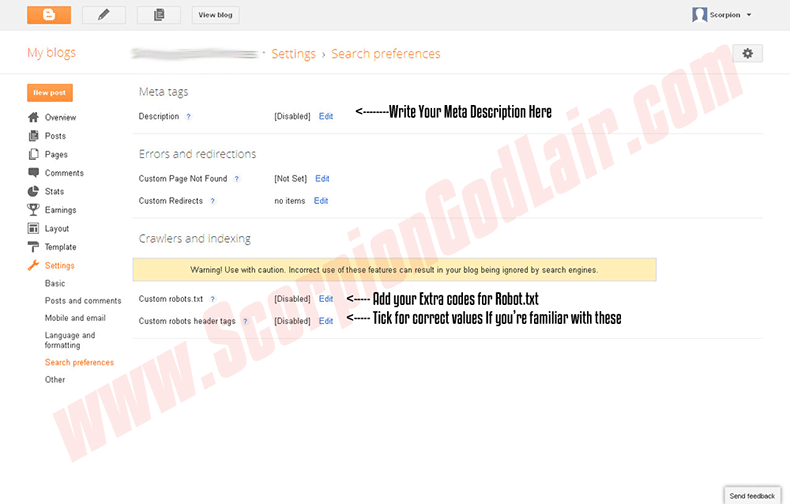 It's a happy to say, New blogger interface includes a setting to deal with Search Engine Optimization stuff under 'Search Preferences'. You could easily add custom redirects, add custom Robots meta details and the really great one – ability of writing a custom Meta Description.
Make sure you use the features of this new update wisely.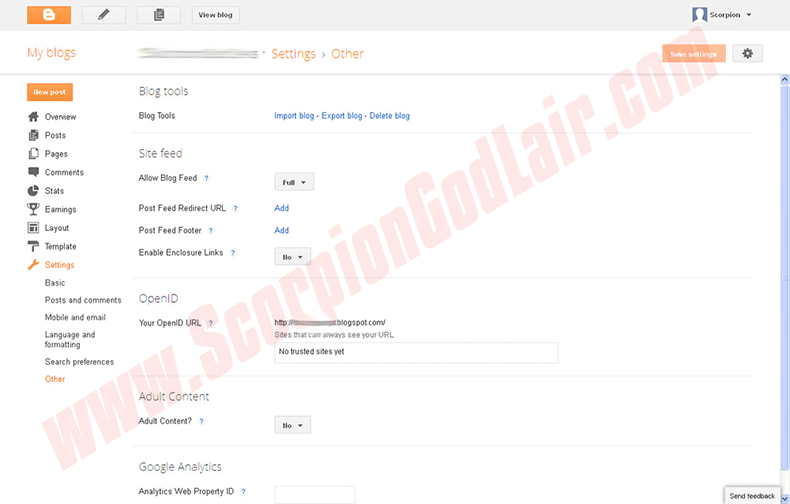 RSS Feed of a blog is really useful in driving your audience to your blog. That's why you need to redirect your default Blogger Feed to Feedburner or your own Feed Management solution. This is where you have that valuable chance on Blogger platform.
In addition to Feed Redirection, you can place Google Analytics tracking code everywhere on the blog by placing the ID in this page.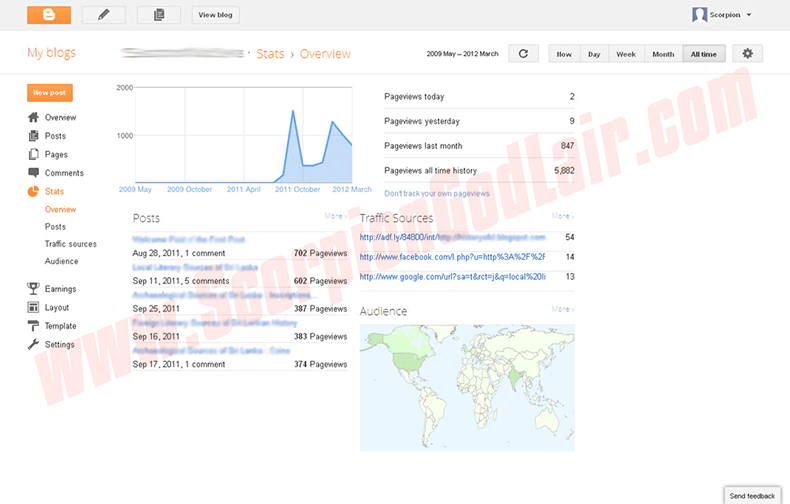 Finally, it's the enhanced Blog Stats page where you can have a fairly accurate stats about your visitors, pageviews and referred source etc. However, Blogger Blog Stats is not accurate as much as Google Analytics. Perhaps, you already realized that bitter part about blogger blog stats.
It's not enough to find only about Pageviews of a blog. Serious bloggers should concentrate more on the number of Unique Visitors. You should too …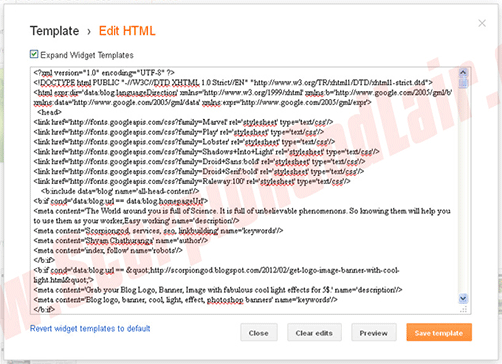 One major loss of Blogger platform is the limited ability of playing with Coding. Above page is where you have that limited ability of playing only with HTML. Blogger HTML Editor is useful to do OnSite SEO and to remove unnecessary codes from Blogger Templates.
Make sure you know what you do, unless just 1 '/' will break your blog.
Now, let me start the real battle of Blogger vs WordPress.
The Fair Comparison of Blogger vs WordPress
The Interface
Why do you blog?
Probably, your answer will be – to build your online business. Yes, most of us build our blogs and websites to build our business on it. But we need to choose the best platform since it is going to be a part of your own business.
Actually, the reason you're blogging is not a matter to choose the wise platform. One fact is clear and that is you are not here to start your fun blog, but to build your business blog.
If you're worrying about the Tech, you'll never choose WordPress Platform. Remember your business cannot rely on Blogger Platform. First comparison point is the 'Interface'.
At a glance what can you feel about the both Dashboard Interfaces below?
Left one shows the enhanced Blogger Dashboard while the other one shows the WordPress Dashboard.
Both Dashboard interfaces are giving a good fight between them. I feel both are okay at my first glance. You can check the settings of any Blogger Blog by clicking 2 times, But the wonderful is WordPress bloggers need to click just once for any setting. Because every menu item can be viewable when hovered.
Isn't that easy?
WordPress Dashboard highly customizable with Dashboard Widgets such as Blog Traffic Stats, Content Stats, WP News and any widget supplied by WordPress Plugins can be added easily. Unfortunately, Blogger platform missed to let you do something like that.
Not even in Blogger Blog Dashboard.
Can you see a Notification when there are new Comments in Blogger Blog? No, there is no any visible sign like WordPress to show you Comments in moderation as soon as you logged in. Another loss for Blogger platform.
We can find many tiny losses of Blogger Platform continuously when compared to WordPress platform. Even the first impression looks fair on both platforms, Tiny details added more weight to WordPress platform to win this factor of Blogger vs WordPress battle.
New Post Interface
Again, both Post Editors looks good and consist of most of the common elements required for an Post Editor. But things are going to change when we compare both platforms in a deeper level with small features.
Listing things is better than other way in a comparison piece!
» You cannot write Custom Characters in Blogger Post Editor such as ©, ®, £ etc. without typing the ALT Codes on your keyword. In WordPress Post Editor you just need to click the 'Ω' – Omega Icon to add a one just like what I mentioned earlier.
» You can choose the Default fonts in Blogger Post Editor and you cannot choose any font in the WordPress Post Editor. All the fonts should be defined in the Styles.css File or in the Theme Settings page on WP.
» Gallery is a useful most of the time in your Blogging life. WordPress has a built in Gallery Feature, so you can easily create a Gallery using set of Images on WordPress Post Editor. Blogger platform doesn't provide Gallery feature.
» There can be happen dangerous thing when you write a blog post, Auto saving can help you in most of the cases. However, having Revisions enabled can show you what changes occurred in the auto-save version and browser version. Fortunately, WordPress do have this feature while Blogpost don't.
» Categories help to organize your blog content in a perfect way, But Blogspot platform doesn't offer Categories, Only Labels which is known as Tags in WordPress. Also there are no option to choose a Featured Image for the post in Blogspot.
» Changing template and Layout of the Post or Page is something necessary for an Internet Marketer. But Blogger platform sucks at this feature. Therefore you cannot create Landing Pages, Sales Pages which don't have Header, Sidebar and Footer. WordPress users can easily choose a template or layout as shown in the Image.
Who's the winner of Post Editor Factor? WordPress wins again the 2nd factor.
Spam Protection
Withe the rise of Spammers, Blog Platforms such as Blogger and WordPress started to defeat Spammers in their own technologies. If you're already reading about Blogging, probably you know that Blogger Platform is ultimately failed at Comment Spam Protection. Let me explain you it further.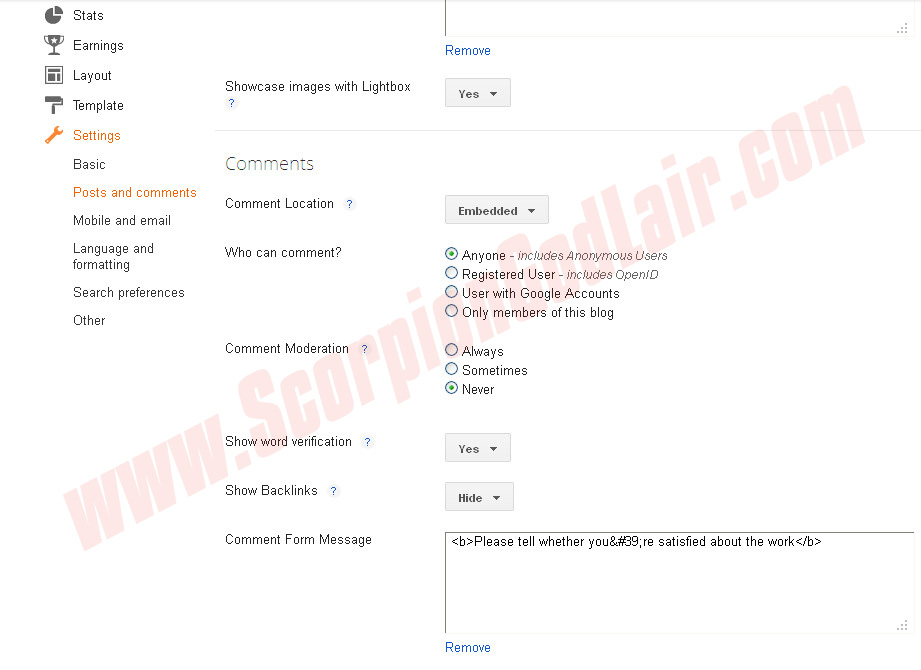 There you can see the comment settings for Blogger platform.  You can fine tune the Blogger Comment Spam Protection by using those settings.
If you use Anonymous setting, Everyone can participate in commenting. So spammers too.  But If you don't use that setting other people can't  be rewarded for commenting with a Backlink. When you're using it Spammers put more influence on your blog. Such a disaster … !
All other options help to minimize the number of comments you get as well as Spam Comments.
After all those salty options you have the chance of using a Word Verification to defend the Spammers. But manual spammers can defeat such functionality too easily.  Therefore, Blogger platform fails to stop the spammers and help the real commentators.
That's where the wise platform – WordPress comes to the game to do exactly what I said above.
Due to the unlimited power of WordPress platform, they have created perfect algorithms to defeat the spammers while identifying the real and honest commentators. Most amazing fact is that these Comment Spam Protection algorithms are almost 99.99% accurate means they never failed to catch the bad guy 🙂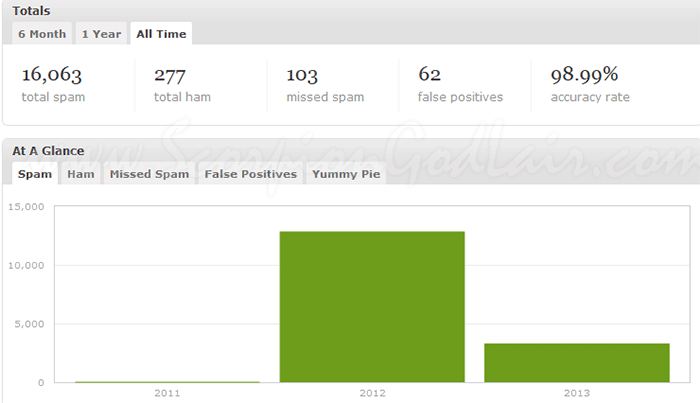 WordPress platform is using the Name – URL comment form and WordPress shows a high tendency to Spammers because of this. However, WP Spam Protection algorithms know how to catch even a Manual Spammer. If you're a WordPress Blogger and still don't use any Spam Protection plugin, Here is my top plugin.
→ Akismet – Ultimate killer of Spams.
In addition to this cracking plugin, you can blacklist the bad words CAREFULLY and create a list of Sam Words. All these things are more than enough to defeat that bad guy.
Spam Protection award goes to WordPress again without any battle of Blogger vs WordPress battle.
SEO Ability & Power
One killer truth about Blogger Blogs is, they are indexed by Google Search Engine faster than any other new blog. Nonetheless, Blogger is owned by Google and they support their Blogger customers with +1 SEO Score.
After the recent improvement to the Blogger platform they've added a feature to Meta Description. Now you don't need to comb the Edit HTML page to place the Meta Description. But Meta Description is just only 1 of OnSite SEO factors.
You still need to comb through those HTML codes to place your OpenGraph Tags which are required to work seamlessly with Social Media sites such as Facebook, Google+ & Pinterest. You still need to comb there to place Authorship Data to get your face in front of your blog search results. Simply, Blogger has to go another mile to become a good helper of SEO.
In WordPress, they are completely SEO Friendly in every aspect. You don't need to comb anymore with the ability of SEO Plugins such as 'Yoast WordPress SEO'. Even there are SEO compatible WordPress Themes such as Genesis Framework to achieve a better optimization than Blogger blogs.
Both platforms support the Permalink Optimization while Blogger started it with the recent updates to its platform.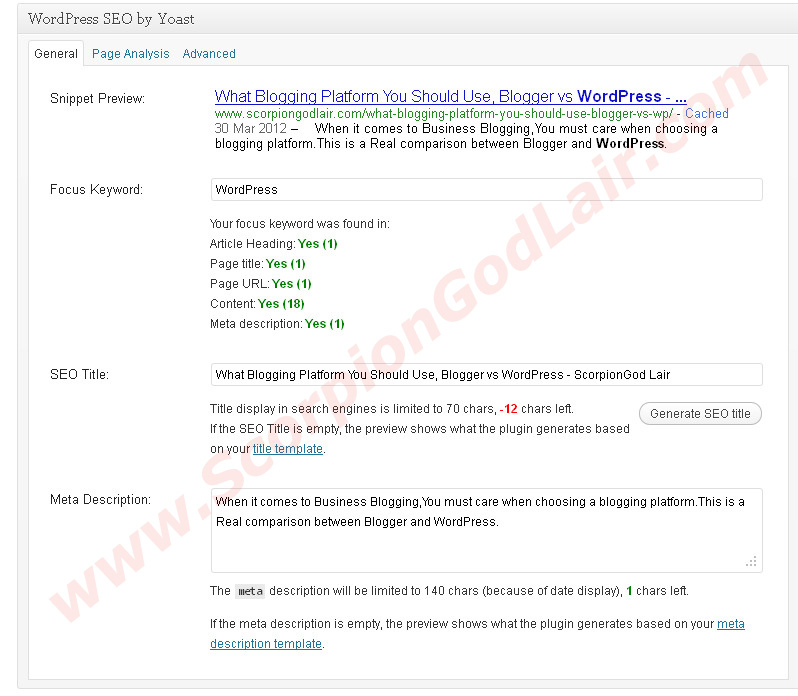 Blog Design & Architecture
An Online Business should concentrate more and more about its Blog Design, not because having a beautiful design is a proud, but because the Blog Design is a factor which helps to keep your prospective customers in your website.
Because it's the one attracts people to your website.
Both platforms contain nice looking designs. Blogger platform, it is called as Templates when WordPress platform it is Themes. However, WordPress Themes are more professional in the terms of functionality and design than Blogger Templates.
With the ability of using PHP, WordPress Themes contain advanced features such as Forms, Slideshows, OnSite SEO and there are lot more to mention If I keep going. Remember all these crazy functionality is NOT available under the hood of a Blogger Template.
Usually, there are so many Blogger Templates which has the same Layout with colors and Images are changed. WordPress Themes never face such a thing since the ability of expanding.  Simply, WordPress Themes are powerful, secure, search optimized and advanced than any Blogger Template.
Advanced Functionality
If you're going to start an automated Digital Product selling website, would you be able to start it on Blogger platform? Would it provides the ability of securing your Products, so only your customers can access them? I have no idea when  Blogger platform will be able to provide such an advanced service.
But in WordPress, you can use Premium Plugins such as Premise to create membership sites which sell digital products and secure your website content to make those accessible only to your valued customers.
What If you want to create a store in WordPress? You could easily use the plugin called WooCommerce to create your store on WordPress. But you'll never achieve this within Blogger Platform.
Guess, you want to make your website load faster than Facebook 😉 Yeah! you'll achieve it with WordPress with caching plugins such as WP Super Cache, but you'll say 'Not Today' for Blogger Platform just like how they say it to the Death in Game of Thrones …!
Which One You Love?
With the above 6 Most Wanted factors for a Business website, the battle of Blogger vs WordPress is winning by WordPress Self-Hosted solution with a far lead to the Blogger Platform.
Blogger platform is not meant for your serious business. So if you're serious enough to choose WordPress, learn it.
Finally, What's your choice of the Platform after reading this Blogger vs WordPress comparison? Is it Blogger? Or WordPress? Is this comparison is Fair? Let's start the discussion about the world biggest rivals of Blogging Platforms.