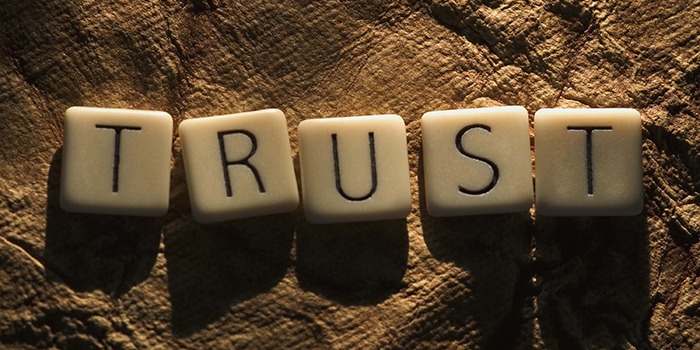 "Learning to trust is one of life's most difficult tasks."
However, lot of things in this world rely upon Trust. It could be a trust with your life partner. A relationship first starts with the small trust occur in the heart of men and women.
But, you know what relationships aren't the only one which consume Trust.
Yeah, it could be your prospect who decide whether or not to buy your stuffs according to the trust they have on you. Remember the quote which I used to give the go for this post.
Did you ever think about what level of trust your target audience have on you, on your business and on your products?
It always a good practice to find the answer.
One of the greatest ways to connect with our prospects is direct email. It's the great deal for catching them while converting them.
Importance of Trust With Prospects
When you walk in the streets, there are so many strangers too. Do you talk with everyone of them or only with a few? I'm sure! you don't have any bolt nuts in your head to talk with everyone.
Okay. Now you're keep going forward, you see someone taking that bad smoke and really looks weird! 😉
Would you talk with that person or simply go away? You might go away, because you don't have any trust on him. You feel like he'll become a trouble for you. Sometimes you are in a fear of such people.
This same situation could occur with you and your potential customer. How?
If your business website looks weird, it can be a sign of losing trust. And when your business email looks pretty spammy, it's a great way to say "Do not TRUST me" for your potential customer.
Remember, your online business relies on your customers. They rely on the trust they have upon you. If you harm that trust between you and your customer or let's say potential customer, it'll lead to no sales in the future.
I have seen many people sell web designing services. Oh! I almost forgot that it's one of the hottest industries right on this planet now. So you should start this business, if you have the guts.
Now back to the story …
Those web designers use their business website to promote their business and they know what they are doing with a good old experience. But they lack of something, So they lose their business.
That something is their own business website, it looks so simple and hardly convert its visitors.
You might be a person like in the above story who knows the work, but lacks the look of your own website. Think for a moment, if your prospects are hoping to get *your* web designing services, then you need to satisfy them with your website first.
Awesome experience and a higher visitor satisfaction always adds few lines to the trust they have upon you!
That's why making a strong trust with your prospects is a must for every business, no matter whether it is online or offline. Start concentrating on it.
In the next few minutes, I'm going to explain you how to use your business email as a way of building a strong trust.
Business Email For Building Trust
Marketing of the products and services directly with a prospective customer is commonly known as Email Marketing.
Email is so powerful when done correctly. It can build your trust and kill your trust. So use wisely!
Don't look like a newbie, be a professional voice in your industry right in your business email.
Are you using a free email account for managing business emails? If you're using Gmail, Yahoo, Hotmail and all other email accounts provided by email service providers for free, that means you're not a professional and often looks like a spammer.
Because, anyone can create free email account to send such business emails at anytime. That shows the sign of "Do not TRUST me" for your prospects. People are tired of getting scammed and they need to find more about you and your business before making that decision of purchasing.
There are many people who have websites, but doesn't know anything much about web designing & developing. While surfing here and there you find one such website. Then you use their contact page to get in touch with the potential customer showing what's lacking and why they should fill it.
This kind of email can be a great deal for a sure fire sale. But you make a mistake of using your free email account as your email. So, the potential customer can be misunderstand your message as a spam.
Finally you lose few minutes from your time, from your potential customer's time and a potential sale.
Isn't that feel really bad …?
You also might be using a free email account with your business name or your name.
eg. Your business name is "Extra Traffic" and you're using "extratraffic[at]gmail.com" for all your business email campaigns.
Sometimes, the reason is that you don't know how to use email address from your domain name as the business email. Other reason is you don't know that you're not building trust with your prospects.
If it is 1st reason, I'm going to solve it just like how I already solved the 2nd reason.
How to Create a Domain Business Email With cPanel
I guess you do have a Shared hosting account from a popular hosting partner which supports cPanel access. My go to hosting partner is HostGator which supports cPanel and lot more features.
If you are using a hosting service without the ability of cPanel, then right now I recommend you to switch your hosting partner strongly.
Because cPanel makes your job easier with the backend tasks of your WordPress website. Also you could install WordPress less than 5minutes using cPanel.
Here I'm going to show you how to create a business email with your cPanel. Here we go!
I'm using HostGator cPanel in this tutorial. Even this is HostGator cPanel, you can follow this tutorial for all other cPanel supported hosting partners to create your domain business email account.
❶ First, go to the cPanel of your website. Simplest method is to use "http://www.yourdomain.com/cpanel" or "http://www.yourdomain.com:2083".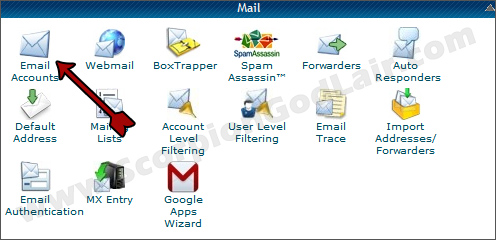 ❷ Scroll down to the "Mail" section and go to Email Accounts. Now you can create your Domain business email account using the form displayed in this page.
If you have couple of domains, you can select which domain you're creating your business email. Our business email is shyam [at] scorpiongodlair.com
Enter your name or business name in the 1st input and fill others your way.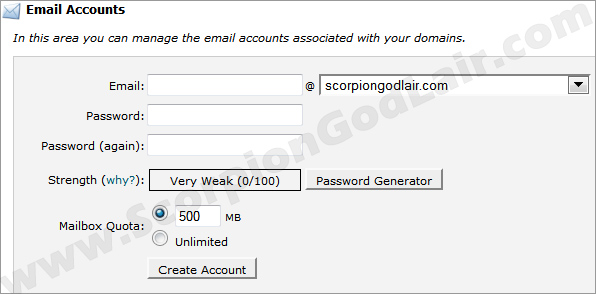 ❸ Once you're done, click on the "Create Account". As soon as you click, your domain business email will be created. But you can't use it the way you do with Gmail, Yahoo etc.
Yeah! You can check each and every email comes to this business email account by logging.
Isn't that make you a boring rabbit? 😉
In this case, I'm going to make you a real scorpion by forwarding each & every email which comes to your newly created business email to your simple to use Gmail, Yahoo or Hotmail accounts. So you can check your business emails quickly and respond.
BUT, One question stays the same!!
Even you can read all the emails which comes to your business email, you cannot reply those with *your* domain business email. If you want to reply them, then you have 2 options,
Reply using the free Gmail account.
Reply using your business email account. – HOW …? See below
How to Use Your Business Email With Gmail
As I explained you clearly the disadvantage of using free email account to connect with your prospects, I'm sure you want to follow this tutorial. So you could email your prospects using your business email right within your Gmail account.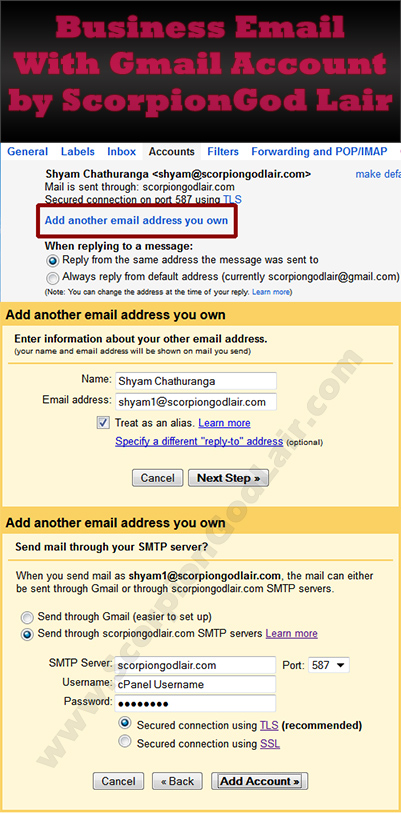 ❶ Since you're going to setup a connection in between Gmail Server & your website. You need to go to Settings page of Gmail first. Note the top right corner of Gmail just below your profile picture. Click on that Gear icon and go to Settings page.
❷ Now go to the Accounts section of the Gmail Settings, there you can see an option to add your newly created domain business email to Gmail. See the screenshots left for a quick glance. Click on that link, so the setup begins.
❸ You can write any name, no matter it's your name or your business name. Type your domain business email for the email field and go to next step.
❹ In the this step, choose the 2nd option and fill the details. I'm using HostGator and the details I used in the screenshot worked fine for me every time. But if those details don't work for you, try changing "yourdomain.com" to "mail.yourdomain.com".
You can use the cPanel login details for the login details requested here. Once you confirm everything is right, Click on the Add Account. If everything is right Gmail will show you a success confirmation message happily!
Now send a test email with any subject to your domain business email with your Gmail account. Within few minutes you must see the forwarded email. Now open up another email that you received from another person and go to reply. You must see the option to choose which email account to use. (Down arrow in the From field.)
End of the line …
What's your opinion about domain business emails? Can they really affect your credibility and trust? I'm sure you've got something to say, So I don't stop you. – Say it below!