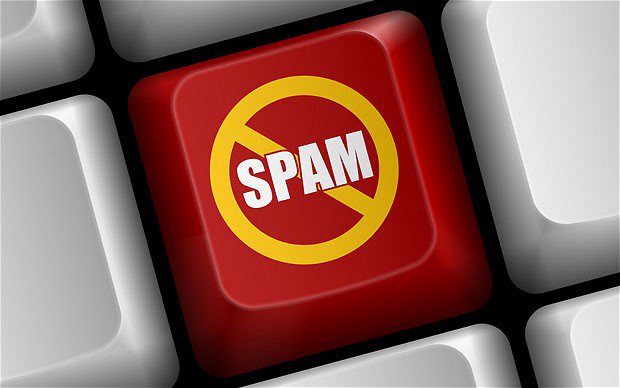 Web Spams … This is something familiar to anybody who use Internet.
Since the early days of Internet, people took various actions to stop – no, say minimize – the Web Spam. Internet giants like Google also wants to create a Spam Free web. So you should too,
You own a WordPress website, you get Spams to it. Yes, WordPress frequently gets lot of Spam Comments even it has the most powerful WordPress spam protection systems, when compared to other CMS.
That is why I said "minimize" instead of "Stop" – You can't Stop it, Unless they Stop it!
The Spam Story
You know I started this blog few weeks ago and tomorrow will be the 6th Week of the blog. As you know blog turned to 1month on April 19th. That means 4 weeks and 1 day. In the first 2 weeks I was waiting for comments. Yeah, it's just 2 weeks only, So How is it going to get more Comments? Damn!!
I started to get comments at the end of the 2nd week saying "I found your blog thru Google, Bing or Yahoo". First, there were only a few of those kind of spam comments, But at the middle of 3rd week the number of spam comments started to rise. I can happily say, All those comments have been caught in the Spam Box. See the image below.

This is my up to date Total Stat in Akismet Plugin which I used to kill the spammers in their neck!. Look total number of Spams I got up to now(24.04.2012) is 383. That's so bad. Within the first month I got 383 Spams.
Now I'm getting around 20 such Spam Comments and all are ended up in the Spam Box thanks to the WordPress spam filtering systems.
Then what is this 'Ham' means here? Ham is simply non-spam comments. So Ham can be known as good, correct, valuable comment. According to Akismet, They do catch non-spam comments as Spams VERY RARELY.! I mean very rarely.
Then how is this Ham number got 80? Is that your question?
Yeah, This is how it happened. Akismet knows the bad behaviors of spammers and their spamming styles too. I said Spam Comments are started to caught in Spam Box at the end of 2nd week. So I thought those are good comments – I felt like that!. And published some of them.
Then the 'Ham' number increased to 80. So the accuracy in the screenshot is also wrong a bit.
If all those Published Spam comments also deleted, then the accuracy must be passed at least 99.99%. See the below image to get an idea how Spammers started their work more seriously!

March which is the launching month I got only 17 spams, but in April I got over 360 Spams. I read most of the Spam Comments and got a bunch of ideas how these dead-brains work 😉
If any of the WordPress spam protection strategies fail to catch these, you'll be able to use your Living Brain to catch these Dead-Brains' work.
The Spammers Behavior
If you are blogging for a while, definitely you have some ideas about this. Below are three comments I get everyday. I think they haven't brains to understand this.
I'll immediately clutch your rss feed as I can't in finding your email subscription link or newsletter service. Do you have any? Kindly permit me recognise in order that I may just subscribe. Thanks.
You're in reality a just right webmaster. The web site loading velocity is incredible. It kind of feels that you are doing any distinctive trick. Moreover, The contents are masterpiece. you've performed a fantastic task in this matter!
Hi, i feel that i noticed you visited my site thus i got here to return the desire?.I'm attempting to in finding issues to improve my site!I assume its good enough to use some of your ideas!!
I get large number of above type of comments. Some comments are in my mind coz everyday those idiots do spams.
Did you noticed the thing behind their English …?
Below are some of behaviors of Spammers.
1. They sometimes paste the same comment or write the same thing like robots.
Remember the 3 comments above? Most of the Software based Bulk Spammers use the same content for a large number of comments. If you approve these nuts, you're in a danger of duplicate content and spam website.
2. They always link to inner pages.
This isn't always a bad behavior, but Spammers tend to do this in an unusual way. Usually very long URLs to their inner pages.
3. They use keywords in the name field.
Recently, I had a beautiful day in reading Spam Comments, See below for the surprised Name of the Spammer!
online money, emoney, imarketing, internet money, online jobs
Using keywords in the Name Field of a Comment form is really looks like Spam. These spammers use their Primary Keywords in the Name Field to get the anchor text value. They are day dreamers.
4. Their language is on a fence.
Noticed the 3 comments above? They had unusual sentences. Many Spammers aren't native English people or the clients of these Spammers aren't. That is not a matter.
If you see something really funny like above in a comment, surely it's a Spam.
5. Their comments are irrelevant.
Most of the times, their comments are totally out of the content scope. Sometimes they tend to mention that their comments are off-topic. Isn't it funny?
6. Sea of Links in comments.
Software based spammers do comment with lots of links to their inner pages in the comment body. These are simply captured in Spam box instantly with these WordPress spam protection methods.
7. Affiliate links in the comments.
This isn't always a behavior of the bad guy. Spammers who use their Affiliate links in the URL field, often creates a dump comment body. So aware about these.
Why They Spam?
Did you ever had a time to think why these people earn the Sin of Web Spam? Like any other question, this one too has an answer. It's better to see why they do it,
So you can come up with a better WordPress spam protection plan.
Get Backlinks, Cheating in SERPs
Primary hope of a Spammer is to get the Links which feed the Search Engines mostly. Simply, they don't understand what is SEO. – It's a Knowledge Problem.
Promote Dumbest Sins
Yeah, I mean the world's most nastiest Sins such as P0rn, Dru9s and all other illegal stuff. One of the aims of Google is to create a family-friendly Internet, So SEs don't treat these bad stuff.
These sinful people become Spammers to build their establishment as a result. – It's a Mental Problem.
Beginner Blogger
These days there are so many beginner bloggers with their new blogs. But not all these people know what they are doing exactly, nor do they have a clear picture about their goals.
Lack of knowledge on their own actions lead to Spams. – It's again a Knowledge Problem.
WordPress Spam Protection Strategies
I think you know what I'm going to talk about. Yeah I'm going to tell you the killer. Killer is the Akismet as you assumed. This is the best Spam-Detecting Plugin in the world.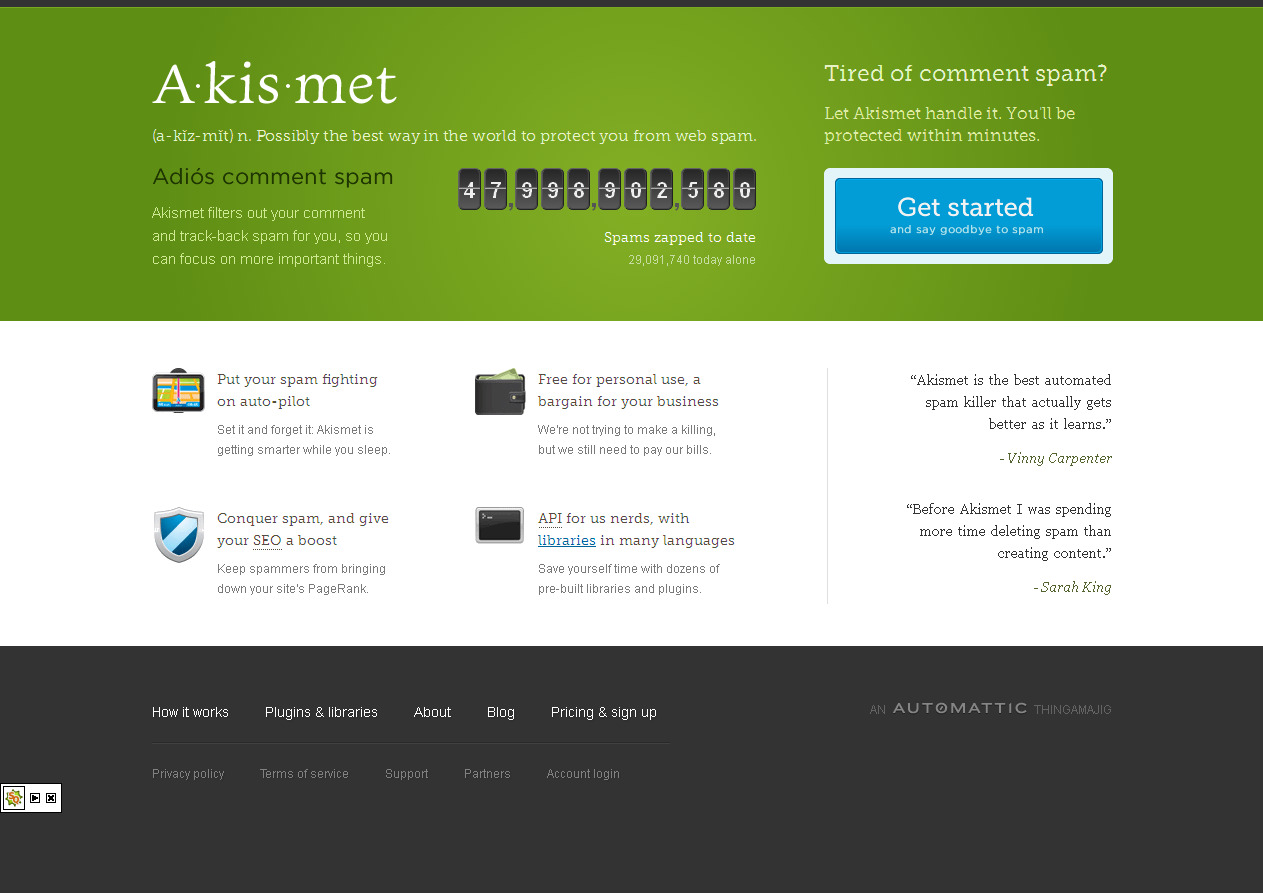 Above image is the Homepage of Akismet.com There's a number which is continuously increasing. That's the number of Total Spams. I believe that number should be increase like that. because spammers all around the world do this damn Spamming.
The Akismet is a service offered by Automattic Company. They are the owner of the world most popular blogging platform WordPress. When someone commented on your blog it's first send to Akismet server and it does various kind of tests over 100. Then reply to your blog whether it's a Spam or a Ham!.
As I said Akismet do over 100 tests to identify Spams. So Spams never gonna be Hams. If it occurs that's rarely. These 100 tests include every point of a spammer. They don't reveal it, because you know why!. Another good of Akismet is it test Trackbacks and Pingbacks too.
So you don't want to offer a link to crappy spammers. If one comment in the spam box, You must check that comment again before hitting Un-Spam, because Akismet put it in Spam Box for a reason not for a funny Joke. I think you understand it on the dot.
The Akismet technology is updating real-time means you don't want to make any doubts about Spam in the future too. This plugin is developed to 20 other platforms too. But that list does not include most famous beginner blogging platform Blogspot!.
There's a Free version of this service for Personal & Non-commercial websites, but buying a paid version is good and a mode of returning the favor.
To use the Akismet free version just signup in Akismet.com and get a free API key and set up it in the Akismet Plugin which is already installed with WordPress. Then you are ready to GO!
Still want something more?
Akismet is the world's No.1 WordPress Spam Protection system, but you might want to make it more tighter for Spammers without breaking the Akismet system.
The next system to protect your website from Spam Comments is to use GASP Plugin by CommentLuv developer Andy Baily.
What do you think about these 2 WordPress spam protection strategies? Would you use both Akismet and GASP or just one of them?